Folk High School
Krogerup Folk High School has the adventageous position of being located close to not only Copenhagen's vibrant city life but also close to a forest and the beach. Krogerup is in Humlebæk – an old fishing village – 35 km north of Copenhagen and 8 km south of Elsinore (home of Shakespeare's Hamlet). The country house has a great history and the main building is from 1776. From the dining hall you can walk directly on to our lovely park. When you go upstairs to the lecture hall, the ocean and Sweden appears in the east. In the west, extending the park, Krogerup Forest opens up with a long linden avenue.
Aarstiderne
We work closely with our neighbours, Aarstiderne – an organic farm that has its own farm shop and hosts a number of exiting activities throughout the year.
Nature – a key component
Krogerup's main building is protected and situated in a beautiful country house park with many rare trees, because the previous owners were very invested in sylvan and nature preservation. The biggest hazel tree in the Nordic region, a majestic copper beech, more than 500 year old oaks, a tulip tree, and a number of other exiting plants and trees are yours for discovery in the park. The landscape around Krogerup is typical Zealand, winding its way through the protected Kelleris coastal wedge.In the summer the Sound invites beach visitors from near and far, and a good sand beach north or south of the Louisiana Museum of Modern Art is only seven or eight minutes away.
Louisiana Museum of Modern Art
Louisiana is in walking distance of Krogerup Folk High School. The museum's collection of modern art is comprised of international artists such as Arp, Francis Bacon, Calder, Dubuffet, Max Ernst, Sam Francis, Giacometti, Kiefer, Henry Moore, Picasso, Rauschenberg, and Warhol. There are six to eight big modern and contemporary art exhibitions in Louisiana annually. Course participants and students at Krogerup get admissions for free to Louisiana Museum of Modern Art.
Kronborg castle, Russia and Rembrandt
Outings to many of the sights in Nort Zealand are abound. Take a trip to Kronborg Castle – home of Shakespeare's play "Hamlet", Fredensborg Palace including a national history museum, the Technical Museum, the Nivaagaard Collections, the Museum of Rudolph Tegner in the protected land area know as Rusland (Russia), as well as Sletten and Humlebæk Harbour in walking distance from Krogerup.
Hike: No 113!
The Danish Nature Agency has published a pamphlet 'No 113' (currently only in Danish) about Krogerup and the forests around the school in their series "Hikes in the State Forests". Get it a the local library or receive a copy when you arrive in Krogerup.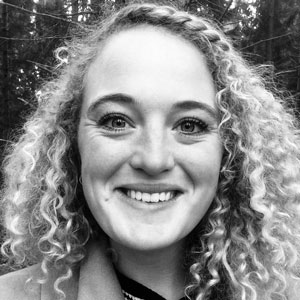 Clara Nepper Winther
CONTACT
Krogerup Højskole
Krogerupvej 13
3050 Humlebæk
Cvr.Nr. 44913216
Telephone: 49 19 03 80
E-mail: kontoret@krogerup.dk
Office hours: 9.00 - 12.00