Electives
As well as your main subject you will attend a series of electives. There are a number of electives for you to choose from. If you have signed up for a full folk high school stay of 18 or 24 weeks, you will get 4 electives in total. Two before the trip and two after. If you have signed up for a short stay, you get 2 electives.
You decide!
At Krogerup you decide if you want to use your time in the dance hall, darkroom, outdoors or in the atelier. You decide if you want to sing or make movies. You can also study international affairs, the new Africa, globalization or politics. And there are even more opportunities. Experience a place where there is room for your ideas and time for creative output. Discover the short distance from thought to action. Together we will push the limits.
NB: We may have changes in the number of electives on demand, as well as too few registrations will lead to cancellation of the elective. The following list contains some of the electives on offer for the spring and autumn, but are not necessarily open for registration during your stay.
Body Studies
Mille Breyen Hauschildt
The body is a political battlefield. It is entangled in complex networks of hierarchies and power which constitute the way we are in the world. The body and its relations to society is what we will examine in this course.
We all have different skin colors, fat percentages, genitals, body hair, abless, hormones and traditional ways of dressing. These factors concretely influence the way we exist as human beings. With the body in focus we will ask questions related to: raciality, gender, fatness, power, class, identity, norms, disciplining of bodies, capitalism, privileges, sexuality, masculinity, embodiment, colonialism, violence, technology, emotions and many more.
In the classes we will work with current cases and issues both from within and without Krogerup Højskole. We will watch movies, music videos, speeches, documentaries, listen to podcast and talk about hardcore theory. We will have guest teachers visiting and we will visit established organizations and activist environments. We will also join a university lecture on Gender Studies. We will furthermore examine body studies through practical exercises with our own bodies.
It is important for this course to create a safe and comfortable environment for everyone. Whether you are completely new in this area or not, there is a guarantee that you will learn something new and that you will leave this course and think differently about the world that you live in.
Lessons will be in english.
Estimate 300 dkr for transportation.
Building a wooden boat
Mikkel Pagh
A wooden boat is one of the most beautiful things you can create using your hands. But, of course, a boat should not only be pretty to look at. If a boat does not hold water, or if the construction isn't seaworthy, the crew might not return safely to shore. In this course we will build a small, wooden rowing boat. During the building process, you will become familiar with key boatbuilding skills: Using hand tools such as planes, chisels and saws. Sharpening edge tools. Reading construction drawings. Learning the properties of different species of wood and wood cuts. And by the way: It is not just any boat we're building. It has a knobby tire in the bow and the oars can be inserted through the transom, so that the boat can be transported over land, wheelbarrow style. Once the boat is completed, we will roll it to the water and throw a launching party!
Dance, dance, dance
Soffies Dalsgaard and Andreas B. Jørgensen
The dance lessons will include both solo dance, couple dance and group dance. It will be the Latin American couple dances jive and salsa, and solo and group dances like showjazz and hiphop/funk. The dance study group will both include the history behind the dances, the fundamental technical principles and the learning of the practical performance. It will also be possible to dig deeper into some of the dances after the students wishes.
Football Forever
Mathias Findalen & Jesper Himmelstrup
"Some people believe football is a matter of life and death. I can assure you: It is much, much more important than that, " said the legendary Liverpool-manager, Bill Shankly, back in the 1960s.
In Football Forever we will dive into the history, the culture, the politics – and everything in between – of the most popular and worldwide-spread sport in the world.
Why is there so much rivalry in cities like Rome, Manchester and Copenhagen – between cities like Madrid and Barcelona, Hamburg and München, Paris and Marseille and between countries like Argentina and Brasil? The answers often appears on the field.
Football is played by more than 250 million people in the world – and is followed by an much even larger number of spectators. We will talk football, watch football, feel football and we will meet people who is making their living on football. 

And of course we will also play a lot of football.
The course will take place in the field between theory, practice and feelings. And no doubt we will look into Russia hosting the World Cup 2018 during the summer …
Teachers:
Mathias Findalen (25 years in practicing football – formerly playing at the Danish National Futsal-team, supporting Man. Utd.)
Jesper Himmelstrup (20 years in practicing football – also as a coach (cried a tear when he realized, that Italy is not participating in the World Cup for the first time in 60 years), supporting Liverpool FC)
Gender, Race and Resistance - Feminism, art and activism
Nazila Kivi
What is a feminist killjoy? Is gender really a 'natural' category? Who decides whom you can date, love and where you can live? How are gender, race and desire related to each other? What do we find, if we dig deeper into social categories like sex, gender, ability, ethnicity and wealth?
In this course we are going to get a grip of the roots of the problems! We will see in practice the meaning of the classic feminist slogan "the private is political". We will examine how power structures define who gets to win and who gets to struggle. We will learn what it means, when queer theorists say, that 'gender is a social construct'. We will discover, what made feminism necessary in the first place, how it is connected to anti-racism and how they work together. And we will explore how subcultures, revolutions and activism challenge status quo and show us, that a different world is possible. Through art, activism and wild imagination.
Outdoor life
Marcus Vincent Frostholm
We will leave the indoor and move into the wild. Away from what usually surrounds us. We are going out to collect new views, new perspectives and new experiences. Out on the ocean, into the ocean, into the forest – getting our fingernails dirty. It will be dramatic at times but also relaxed and quiet. The experiences will bring about reflection but at the same time challenge us. We will be serious, but most important we will have lots of fun.
The instructors have planned an adventurous and inspiring course from ideas about motivated learning and independence vs. unity.
We will use the fabulous countryside that surrounds Krogerup. That is our starting point for activities such as tree climbing, kayaking, adventure race, running, camp building, swimming in the sea, and we will cook outdoors as well. Bring practical clothes, your good mood and a good deal of appetite for adventure!
Requirements for attending the course: a bicycle, good swimmer, and a desire to learn and explore.
People and politics
Mathias Findalen
The course targets students with an interest in international relations, politics and the global driving forces of the 21st Century.
International governance is at a crossroad: the need for efficient instruments to solve multiple global crisis is more urgent than ever: A failed war on terror, a vague and inconsistent response to reforms and uprisings in the Middle East, passivity and negligence in the face of ecological disaster, and a lack of solutions for the global refugees refugee situation are only some of the significant shortfalls in international governance, that we witness today.
Are there alternatives to the picture of powerlessness and incompetence of international institutions? Of course there are, and we will identify them and approach them with new alternative methods and ideas.
During the courses we will discuss humane and efficient ways to international good governance. We will come up with our own ideas to advocate for change and improvement in world affairs, and we will practice presentation skills and create articles to present in our own small political magazine.
Students are expected to contribute to the course by presenting topics. A fair amount of online research and in depth preparation by the students is required as well as good understanding of English and motivation to take active part.
Radio & Podcast
Liv Mygind
In Radio & Podcast you will learn how to record and edit radio. You will learn how to use cleansound, voices, speaks, interview and editing to create fantastic stories that will make the listener cry or laugh. And you will learn to ask questions, so that the interviewing persons will unfold themselves so they can be used in telling different radio stories.
You will learn to use tools used by journalists as well as you will learn the technical needs for using the recorder and our editing sound system – Hindenburg.
We will talk, laugh and listen a lot – and we will use our ears and voices. Thus we will walk the woods and listen to the best of podcast, and we will listen to the best radioperformers from all over the world.
Stay tuned. It is going to be everything but boring.
The living line – with Louisiana
Lisbeth van Deurs
(Drawing course, Krogerup College / Louisiana Museum of Modern Art).
Drawing is essentiel when it comes to art. This course aims to give the student a basic understanding of art through drawing as a medium. It provides the participant with an oppertunity to really go into different tecniques via lots of drawing pratice as well as dialouge around sculptures and other art pieces currently exhibited in Louisiana.
The programme includes working from nature and from the figure. Taking a starting point in the artpieces in the different current exhibitions and the permanent collection in Louisiana Museum of Modern Art.
Working from live model, working from sculptures of Giacometti and printmaking from cobber plates is also a part of the programme. The course includes exercises from Louisians architecture too.
The sessions will take place At Krogerup College as well as in Louisiana Museum of Modern Art.
The people teaching the course are: Louisianas art historian Lisbeth van Deurs. Lisbeth graduated from London with a BA (HONS) degree in printmaking and later with an MA in drawing. And also Krogerups Malte Klagenberg, who graduated from Det Jyske Kunstakademi and the Royal art academy in Stockholm. Malte works with a wide variety of media and materials. Counting everything from sculpturing with sawdust to acid-paintings and comics.
Louisiana Museum for Moderne Kunst
The Great Christmas Lunch
Frederik Schack von Brockdorff
The Danish concept of 'Christmas lunch' is on one hand fantastic and on the other hand totally repulsive. We eat and drink until our bodies are almost exploding, and the normal moral rules of society are cancelled as everyone acts like crazies, cheats on their partners and makes copies of their asses in the office. It is orgies of overconsumption, food waste and decadence. But at the same time the Christmas lunch is a fantastic event. We break the everyday routine, we take a break from a stressful work life and we focus on good food and take our time to meet with friends and family to enjoy each other's company in the dark winter months.
In this elective subject we will take the best elements of the traditional Christmas lunch and add the concept of sustainability. We will create our own Christmas Lunch from scratch and at the same time discuss aspects of Christmas and the concept of the Christmas lunch. We will use our own hands and make our own food and drinks as we will catch fishes in the sea, brew beers with a brew master, make our own pickels and bread, and hopefully kill a chicken. While we see the great Christmas lunch slowly evolve in our hands, we will discuss religious and sociologic aspects of Christmas and also talk about food production and the concept of orgies.
Note: There will be a small amount to pay for transport to the fishing boat and rental of fishing rods.
The Great Easter Celebration
Mads Philipsen
Easter is one of the most important religious celebrations around the world. We celebrate it in various ways from the catholic parades in Rome, the beautiful alfombras in Latin America during semana santa and off course the semi-secular Easter lunch in Scandinavia. Like a lot of other celebrations, Easter has evolved into a mixture of old pagan traditions and Christian rituals. In this class, we will explore the different rituals, traditions and the storytelling of Easter while planning our own celebration.
We will brew our own beer and bake our own bread. We will make nice marinated herring and schnapps. We will visit a priest and discuss the relevance of rituals in modern society and the historical background of the Easter celebrations. We will also discuss how rituals are and ideological battlefield of different political and religious fraction in the strive for defining traditions and history. We will end it all by celebrating Easter at Krogerup Højskole.
NB: There will be a small student payment during the class for transport and materials.
Video on the move
Esben Blaakilde
Video on the move – cell phone video documentary
Have you realized the moviemaking potential you have in your pocket?
The ever-present smart phones, tablets and pocket cameras have made it possible to create videos in a quality most professional filmmakers only dreamt of 10 years ago. Even Oscar winning documentaries such as Burma VJ and Searching for Sugaman has used the smartphone camera in their pursuit for of great stories.
Now it is up to you to create the videos you want to see.
'Video on the move' opens the world of possibilities in making short documentary films with equipment that is readily available – and we start production on very first day! We are going to look at poetic travel documentaries and the possibilities of the documentary film, but most importantly: Through the course you will learn the technical basics of filmmaking, boost your skill to give and receive productive feedback on videos and of course produce a range of different videos.
Be ready to change the way you see the world through a camera lens and use video to document the exciting things of your life.
Social entrepreneurship in a box
Henny Hagerup & Lorena Torres
Are you motivated by a desire to see the world as it can be, and not as it is?
Then join us as we explore Social Entrepreneurship: a fashionable – and perhaps also confusing – term. For what do we understand by the two words 'social' and 'entrepreneurship'? And how does one become a social entrepreneur?
In this course we will navigate alongside discussions and reflections upon the topic – which includes case-studies, video screenings, visits from experts (social entrepreneurs, artists & technological innovators) and excursions. Together we will generate a creative studio where we'll start working on our own social initiatives and where you'll be able to unchain your passion for change.
Together we will:
● Discuss the complexity of societal challenges and dig deep into the issue you want to solve;
● Explore how alternative approaches, inspired by the arts, mixed media & technological innovations, can build new strategies and foster social transformation;
● Learn how to develop a social business plan and showcase your social initiative to fellow students. It is expected that each individual group will prepare a pitch and a prototype of their social initiative (product, website, app etc).
This 'box' is designed to strengthen your creative intelligence as well as your organisational and entrepreneurial skills – giving you the basics needed to kickstart your own social initiative.
Expected transport fees for excursions: approx. 200DKK
Uncovering Denmark
Bjarne Hald & Mathias Findalen
This course targets student with an interest on political and social affairs in Denmark.
Is our welfare society on decline replaced by a competition state? Why do we in our society have such a high percentage of young people experiencing a mental unhealthy state of mind even though the Danish population is still called one of the happiest in the world?

What sort of society is Denmark turning towards and what characterize the huge welfare gap between the countryside and the bigger cities? What characterize the countryside today? And how does the Danish modern city look like (Copenhagen is ranking high in lists of livable cities, sustainable cities and now top Lonely Planet's list of 'where to go in 2019'), but the city too has 'official ghettos', severe housing shortage and other backsides.
We will understand Denmark in relation to the other Scandinavian countries. Especially the ongoing culture and identity struggle between Sweden and Denmark – Yes, neighbor's but oh so different. Danes generally see Sweden as a land of political correctness, hierarchy, seriousness and alcohol restrictions. Swedes often see Danes as the opposite – and not in the good way.
We will also cover culture life and especially look into the popular genre of film. This include understanding Nordic Noir and why Danish TV-series are so popular all around the globe?
We will end up by looking at the New Nordic food – especially how Copenhagen became a food capital for gourmets in a country that in the past didn't have a strong food history? and we will in the final class cook Danish food ourselves (the new way of Nordic) and present for the rest of the school.
Yoga
Mathilde Sofie Milan
Yoga means to unite. As an ancient Indian practice, yoga is reaching for a union between body and mind. But what does this actually mean, and how can we use it in a modern, fluctuating world? Yoga is balance; a balance between effort and ease, masculine and feminine, reason and instinct – the yin and the yang. According to yoga we need both sides in our lives.
It is learning how to move the body in different patterns, to gain strength, grounding, balance and flexibility – we gain flexibility in the body as well as in the mind.
It is to get to know how the breath works with the body, and how we can connect the two in the physical practice.
It is to play with the weird, the funny and the challenging poses, on our feet, hands and head: to have fun and allow for space without judgment.
During this course we will reach a deeper understanding of yoga. In the physical practice, we will explore different types of yoga: hatha, vinyasa and yin yoga. We will move our bodies, play and laugh, sit in silence, and learn different breathing exercises (pranayama).
We will also explore the other dimension of yoga; yoga as a philosophical system. We will study ancient texts and concepts from the history and philosophy of yoga, and discuss these values in a modern context, using western philosophy as a perspective. Because the big question is; how can we practice yoga when we are off the yoga mat?
The class will take place on mats, cushions, in nature – maybe even by the sea. This course is open to all levels, whether you are already an advanced "yogi" or just curious and have a dream about balancing on your hands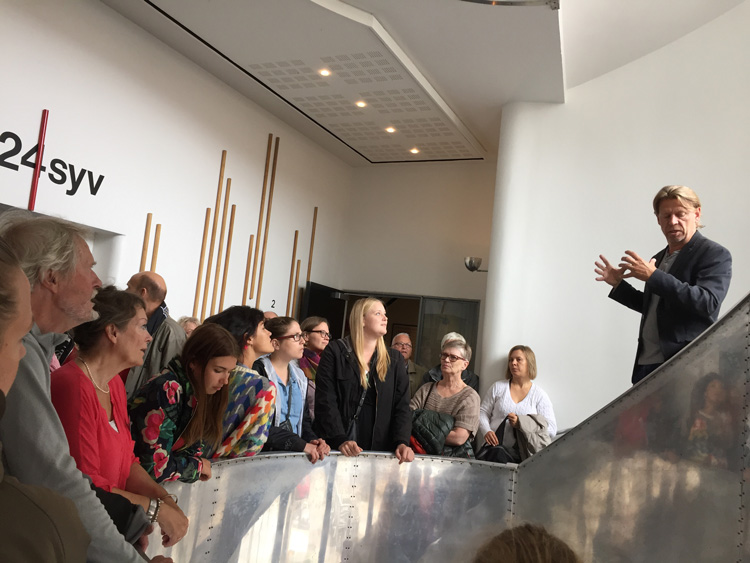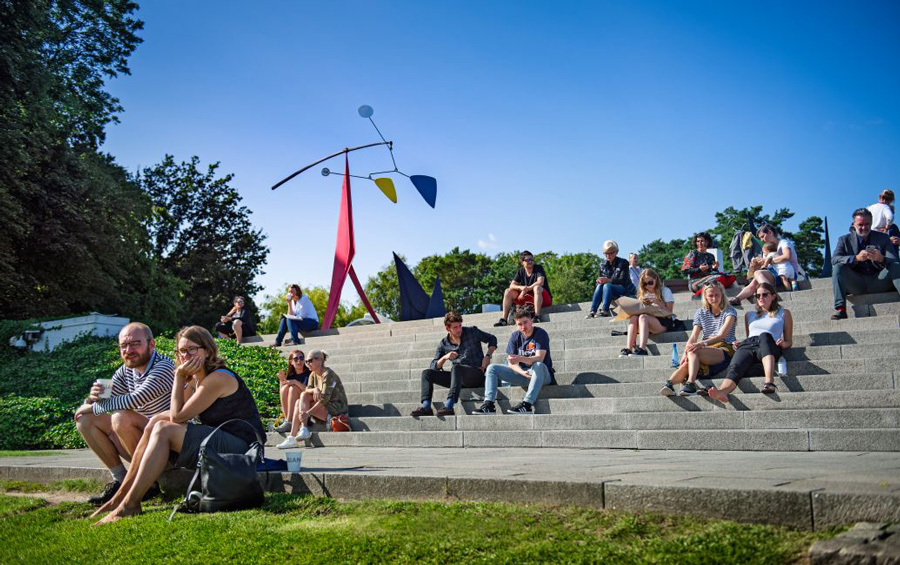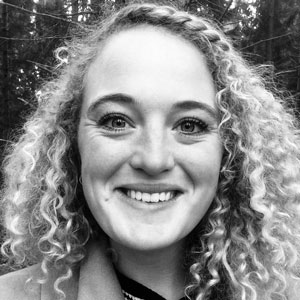 Clara Nepper Winther
CONTACT
Krogerup Højskole
Krogerupvej 13
3050 Humlebæk
Cvr.Nr. 44913216
Telefone: 49 19 03 80
E-mail: kontoret@krogerup.dk
Office hours: 9.00 - 12.00
Se der seneste nyhedsbrev HER